GHOST TOWN DRIFTERS
Local Artist Spotlight  
The Ghost Town Drifters bring their Galactic space-grass to the base of the 
mountains as the reddish purple sun sets behind the ridge, and the rings of a 
distant moon start to glisten at the last fading light. As a blinding Supernova, a 
strong bright presence emanates from front man Oren Paisner, undertaking 
mandolin with mastery, strapped side-arm, loosely holding on with a tight savage 
grip at the helm. Scott Vincent on upright bass is free from gravity, flying about 
the stage lightly somehow, with that juggernaut of bass driving the rhythm 
through space. Tom Muller on guitar is like a comet, notes spreading like tracers 
into the void, fire floating to meet again somewhere down the line, ever reaching 
to new heights. And to bind together the enterprise that is Ghost Town Drifters, 
meet the Doctor - Joey Purmort. Keeping a cool head through the firestorm, he 
dons his uniform, steps into the domain of stars, and lightly nods rhythmically as 
he executes surgery on the vessel that is the Banjo. These boys play songs about 
Moonshinin', Runnin', Truckin', Movin'… and most of these roads, it would seem, 
lead them into the realm of Space Travel. A feeling of the great unknown sweeps 
through the croud and welcomes them. Beautiful harmonies litter throughout the 
sky and hold it all together, and they sure do bring with them some Chop Suey! All 
of this creates a Grasstime Continuum – these guys sure are a great part of the 
jamgrass scene here in Colorado. 
Oren Paisner fares from Maryland as a lad, where he and a few friends found a 
Mandolin and a Banjo in his family home at about 17, and not long after this, 
attended a bluegrass jam at a bar at the Crossroads in a cornfield, so goes the 
tale. 
That's all he needed. He was Immersed. Obsessed. He started studying the likes 
of Monroe, Flatt, and Scruggs, and honing his craft. In 2012 He met Joey Purmort, 
after coming from Exile through Kansas to find the foothills of the Rockies at last. 
Through the years their travels brought them to find Scotty and Tom. They have 
since continued playing, together and in different groups, until just last year 
decided to join forces together, with the help of a fateful Disc floating through the 
wind, and so thus was formed GHOST TOWN DRIFTERS
Jeff Austin band with Old Salt Union and Ghost Town Drifters.
Cervante's Other Side 4/18/2019  
GHOST TOWN DRIFTERS  
These boys started out the night at Cervantes, coming out the gate with a swirling  
notion of Galaxy-grass. The band Ghost Town Drifters is a newer name in the  
jamgrass scene here in Colorado, with some players that have been at it a good  
number of years. A very well put together group of guys, and very fun to watch!  
Lead man Oren plays the mandolin loosely strapped over one arm, with great  
speed, ferocity, and they all come together to stagger the mind! Precision Banjo,  
Fluid intricate guitar and booming energetic bass come together with a big  
Planetary sound that will leave your gaze entranced. These guys bring a great  
feeling to the stage, like a space western with mad bluegrass gunfights lighting  
the sky on fire . Excited to see them continue to grow in the scene here. A great  
way to set the scene, and start out the night with Jeff Austin.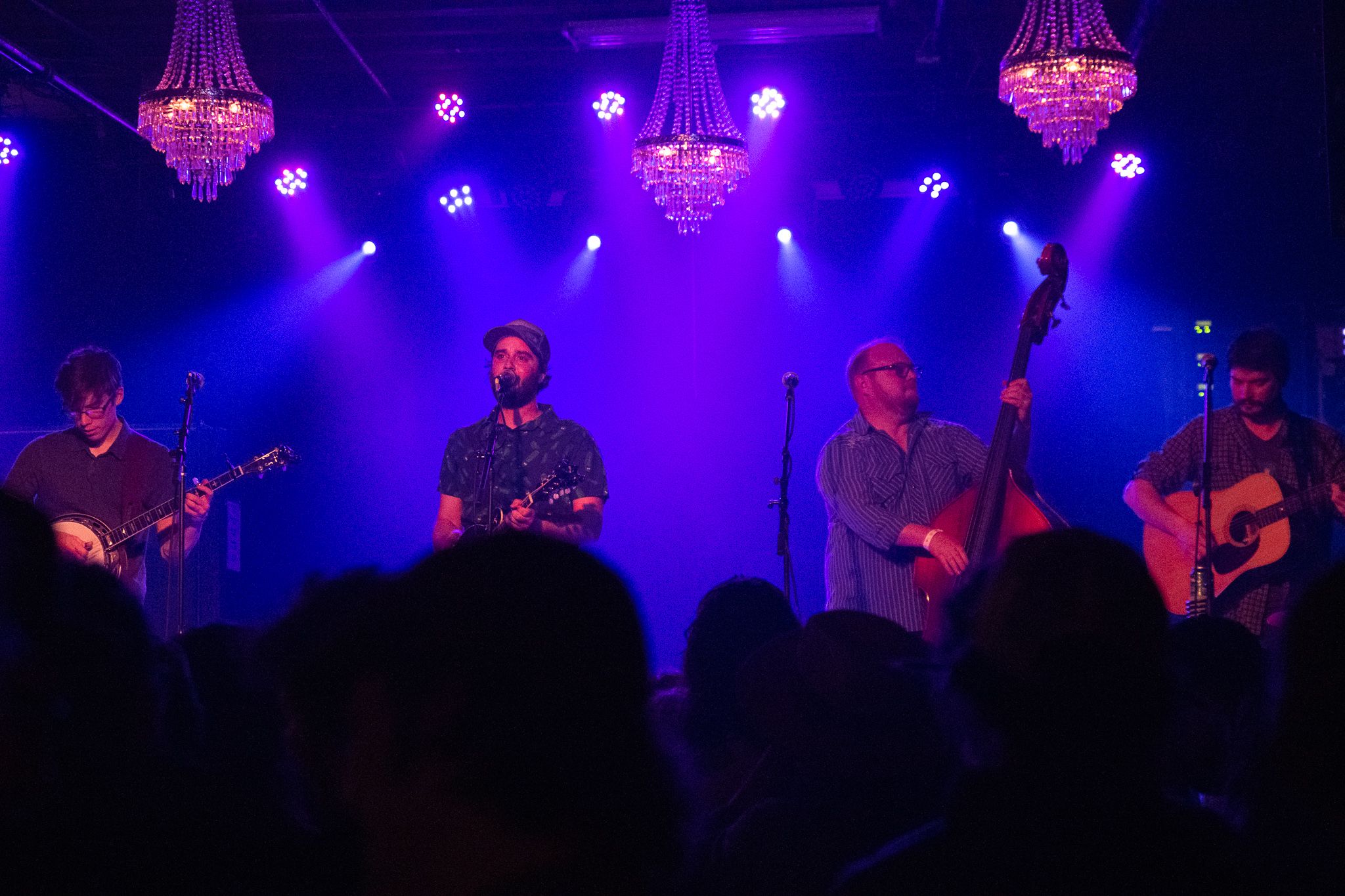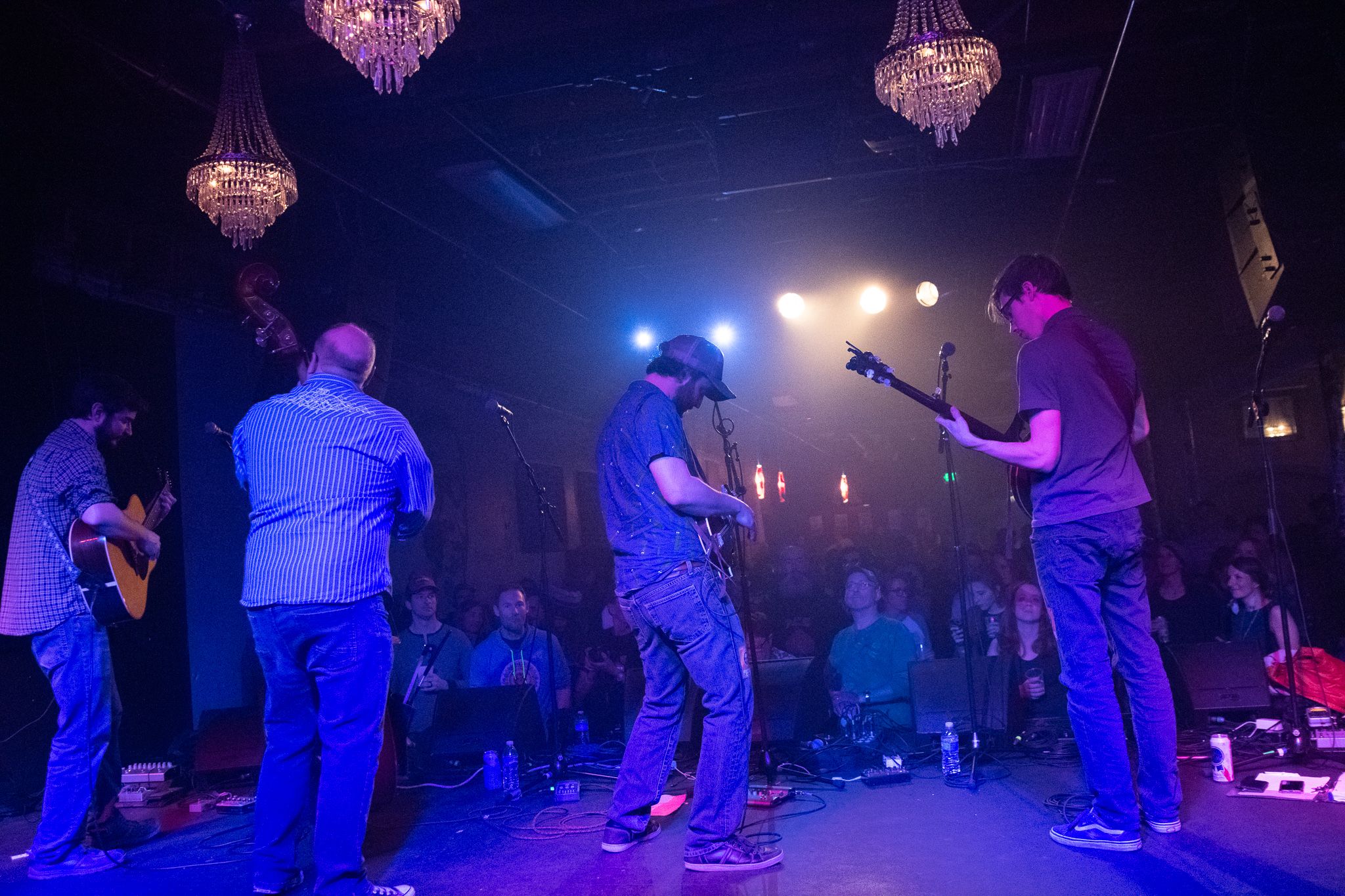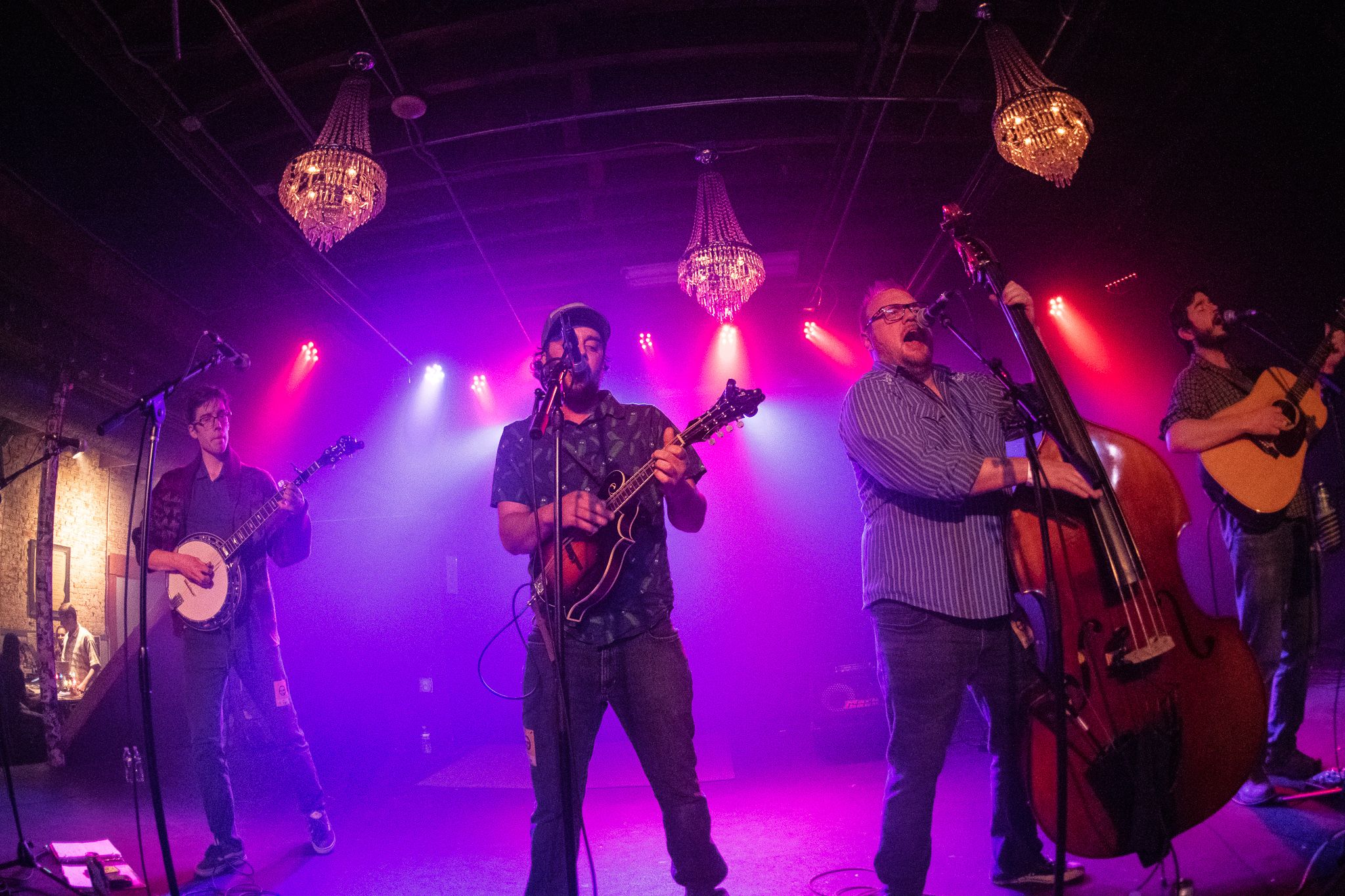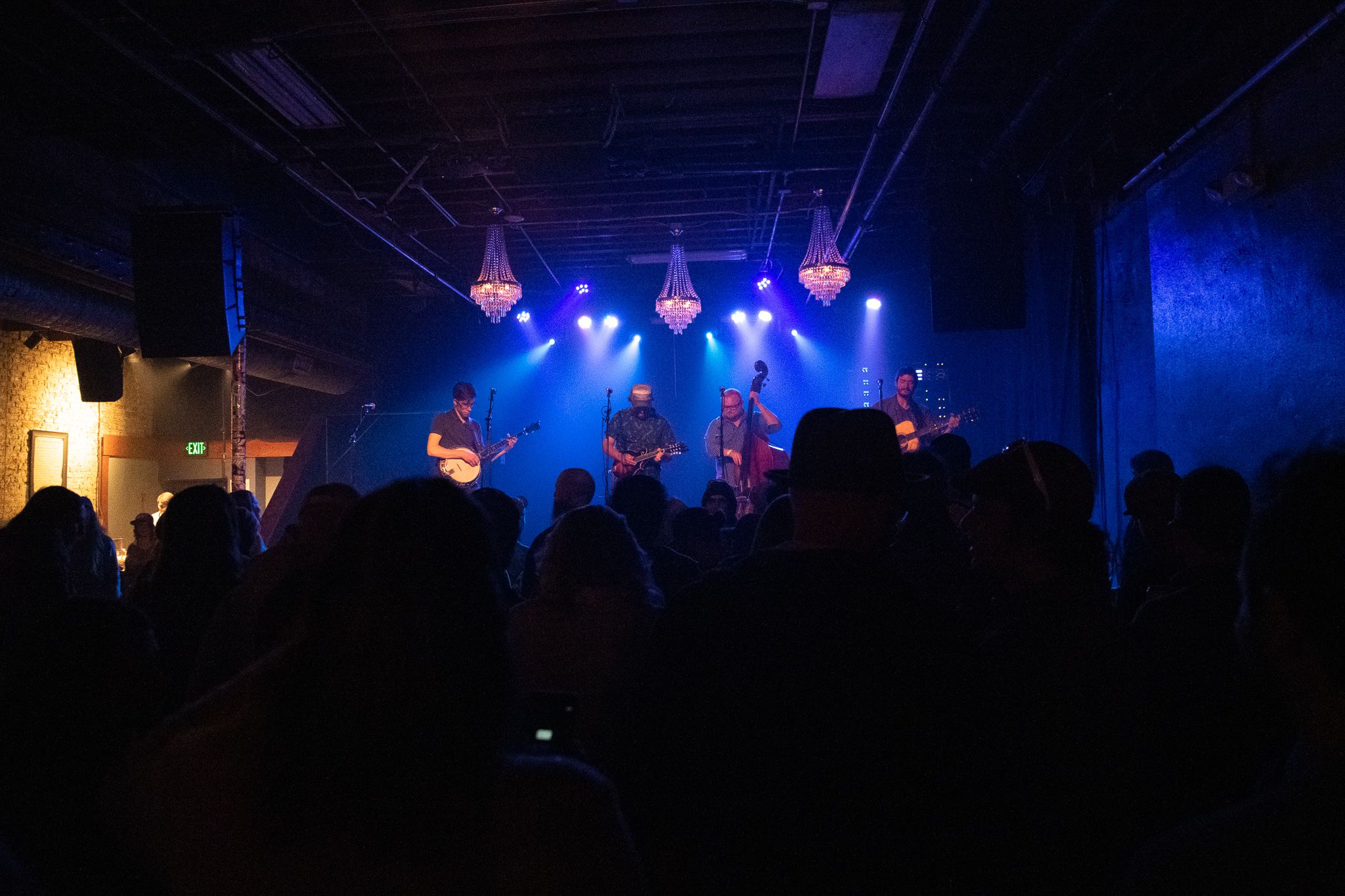 Audio from Ghost Town Drifters
OLD SALT UNION 
Nitty Gritty Smash-Grass. A Force to Be Reckoned With. Road Worn Warriors. 
From the first note of the stand up bass, the band came forth with a shot. Jesse Farrar  was breaking IN that thing and getting down, immediately… you knew 
you were in for a time with these guys. You could feel The Road emanating from 
their every note, that force that little but the evermoving horizon can bring. They 
yearned for it, bringing an axe with them to cleave the emptiness, and drink down 
its remains. A group of madmen, this lot. Hailing from St Louis, MO on a tour that 
brought them to the shores of the western shores of this land and back around to 
meet the mountains of Colorado; they got a big start here in the history that they 
have written so far, and feel quite at home at their return - reunited with old 
faces and glasses full. By the way, these guys absolutely shred!! They know how 
to rapidly tear down your situation, and before your realization cast out an 
amalgamation. They grasp out and find the pieces and let them fall themselves 
into place as the notes fall like winded rain upon the mountainside. If you see 
their name on a building, go inside. 
JEFF AUSTIN 
Jeff Austin needs no introduction. Jeff Austin is the Introduction. 
Jeff Austin bends space and time to his will. With eyes focused, Jeff Austin makes 
fire appear directly in his open palm, where before there was nothing. He looked 
directly into my eyes from a great distance, and locked my gaze, and I was 
powerless. His eyes tell a story, and his voice brings it out and beckons you in. 
Jeff Austin makes mountains move. Jeff Austin brings the Devil out of the Room. 
He had some great players with him on this Thursday night, one of the best banjo 
players I have ever seen trading lines with him all night into the realm of madness, 
as the Jeff Austin Band brought ebb and flow of wave and wave crashing down on 
us all. The young guitar player was absolutely incredible, playing with precision 
and speed equal to his counterparts, all rounded together absolutely breathlessly 
with skillful and powerfully wrought rhythm of Jean-Luc on bass. A long song of 
beautifully wound threads brought with it a moment of clarity, that lifted us all off 
the ground, and after a time, we were brought swinging back down with wide
eyes, yes and a smile that just wouldn't quit. These 4 kept the room more than alive  
and well, and we can't thank them enough for the gift that night. Keep changing  
lives out there. 
The road never stops and the party never ends – 
-Josh Bower, Denver Jamgrass